What others are saying...
Great product, excellent support, but difficult repair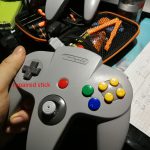 The gears themselves work very well. I am impressed by the quality!
Also the customersupport is very helpful and quick! A+!
Now for the repair itself. I read on Etsy, that after their repair, a customer had a drifting stick.
I did encounter that issue as well. It has absolutely nothing todo with the Gears (they are as good as it gets), but with the worn springs inside the stick. The spring might slip during use, thus the idle position suddenly changes during use. (This results in suddenly giving off-center inputs, without touching the stick. As example: Mario runs without touching the stick.)
The worn spring also meant, that the idle position of the stick was wrong (not center) upon startup, not allowing full the input range. (This results in Mario not running as quickly in some of the stick directions, for example)
-> Trimming the spring to fix those issue is certainly possible, but takes a bit of time and patience (if you have no experience). Two of my four sticks were very quickly repaired, the other two gave me a good amount of trouble with their springs.
So consider carefully, if you have the time and patience for the repair. If you do, than this product is for you! Else, I would consider, you look into good-quality stick assembly instead. (Or sending them in for a profesional repair.)
Also did receive 5 instead of the ordered 4 sets, which was very lucky, considering one gear was broken in transit. I did forward this, and the support said, they will package international letters with more bubble wrap, to prevent this in future.
I can't speak highly enough of the support, they are very helpful and quick.
All in all, I am very happy with the product and the support! Though I imagined the repair to be easier. But it was doable, so my expectations are met! 🙂
Yannick
February 24, 2022
I recently bought two sets
I recently bought two sets of gears from ebay, and so far have gotten around to replacing one very worn set of gears in one of my controllers. The process was very quick, and these gears are as near to perfect as you will find. I am very happy with the product, and was even sent an extra set of gears as a thank you! Excellent product and excellent customer service.
Joe
November 22, 2021
awesome
These are really awesome quality and work really well! I'll definitely be buying more as I need them.
William Steinmetz
June 27, 2021